By Jacob Shack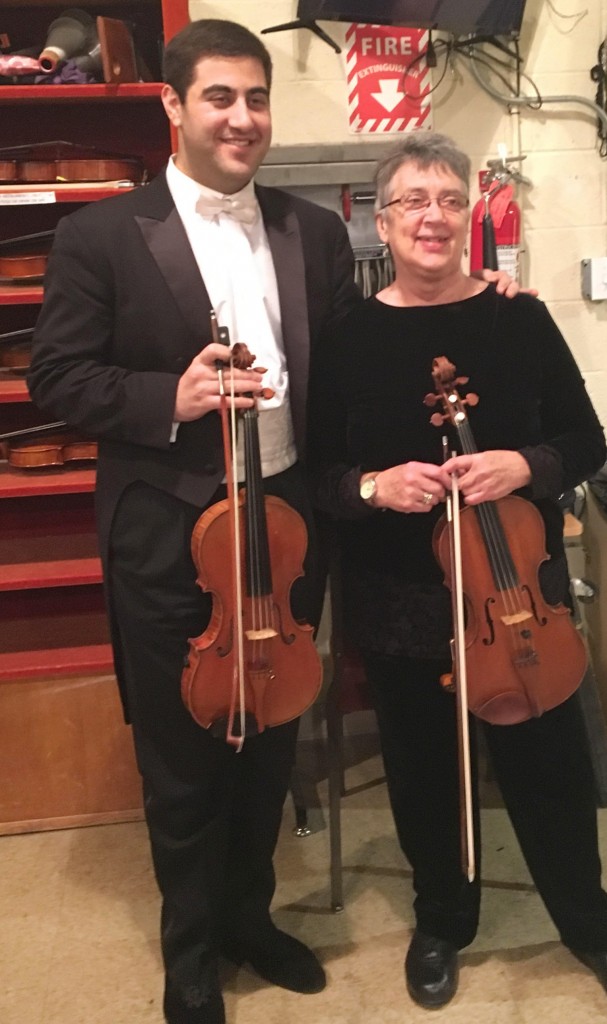 If ever there were a universally loved presence in the BSO, it would be violist Sharon Myer. She has been a mainstay of the orchestra's viola section since 1978, and at the end of this current season she will retire as one of the BSO's best-loved members.
There is more to Sharon than merely her generosity and goodness. In fact, Sharon's road to the BSO was no cakewalk. She got married immediately after her graduation from Juilliard in 1969. Shortly thereafter, she and her new husband—whom she met on a train in Germany—moved to Berlin, where he was stationed in the Air Force. Several years later, the couple moved back to Baltimore with their young daughter, and Sharon began subbing with the BSO. After four years of being a regular sub and the birth of her son, Sharon took an audition for assistant principal viola. She had never prepared for an orchestral audition before, and was subsequently eliminated in the preliminary round and told that the section no longer wanted her to sub. Retribution was had six months later, when Sharon was awarded a section position following another audition. (Fun fact #1: violist Jeff Stewart was awarded a position in the very same audition!)
Since that time, Sharon has had a remarkably diverse career, which reflects her multifaceted interests and passions. As a child growing up in Costa Rica, Sharon developed a strong interest in music, and began studying viola with the concertmaster of the National Symphony Orchestra of Costa Rica—but only because there were no cello teachers in the country. When her family moved to Bethesda a few months later, she attended Walter Johnson High School, which had an outstanding music program. (Fun fact #2: she and bassist Jonathan Jensen both played in the Montgomery County Youth Orchestra, a precursor to her many performances at Strathmore.) She ended up as a student at Juilliard, where her true passion was quartet playing. Juilliard even created a special master's program with a focus on quartet study specifically for Sharon, but she broke the school's heart and decided not to return for her master's degree.
During her time in the BSO, Sharon and the group have gone through a myriad of changes. In addition to the orchestra moving from a 38-week season to a full 52-week season during her tenure, Sharon has played under four music directors, all of whom offer vastly different strengths and specialties. Among her fondest memories were the orchestra's three tours to Japan. To prepare for these trips, Sharon and two of her colleagues studied Japanese at a local community college. In retirement, Sharon plans to use her Spanish language skills to volunteer as a translator at a local hospital, as well as work with children to develop reading skills. In addition to her affinity for languages, Sharon is multitalented in the artistic realm. She is a gifted potter and plans to continue working in clay and developing her skills in that field. Finally, Sharon and her husband of five years plan to build a new home in New Hampshire where they look forward to spending long summers enjoying their lake.
As she speaks about her long and full career, one can easily surmise that she is incredibly grateful for all the opportunities and experiences that have come her way over the years. As a new member of the viola section myself, I am certainly thankful to have overlapped with Sharon, even for a short time. Our friendship will certainly continue beyond her retirement, and I will continue to be inspired by her fortitude, musical talent, and generous spirit.