By Greg Mulligan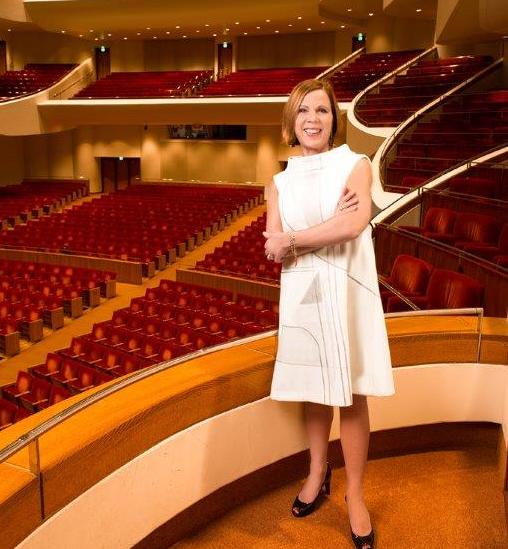 As you begin your second term as chairwoman of the Baltimore Symphony Orchestra's Board of Trustees, please reflect on your first three years. What, if anything, has surprised you as you have steered the BSO ship? In addition, as you work to recruit new board members, what attributes do you look for in potential candidates?
Reflecting on the past three years is an exercise in education and awe. The BSO is a marvelous institution. Everyone loves it, and we are lucky to have loyal audiences and an engaged board.
The job of a board chair in the first year is always to listen. I listen to board members, musicians, staff, concertgoers, and many other stakeholders. I was previously board chair of St. Agnes Hospital, and the structures of the two organizations are surprisingly similar. At St. Agnes there was a Chief Medical Officer, who is comparable to the BSO's CEO. The doctors and the musicians are similar. At St. Agnes, the product was health care. At the BSO the product is the music.
As board chair, I have to listen to everyone. It's like a jigsaw puzzle — if you take one piece out, the puzzle is incomplete. I like to think of our structure as a circle, not as a pyramid with a strict hierarchy. I'm known for the phrase "we're all in this together."
How did you originally become involved with the BSO?
Both of the last two BSO board chairs, Michael Bronfein and Ken DeFontes, asked my husband and me to chair a recent BSO gala. I used to run an event company, so it was a logical responsibility for me to take on. I got to know the BSO staff, and enjoyed the feeling at the Meyerhoff. Our audience is always ready to appreciate fine artistry; they are very loyal. Right after the gala, I reported to the board on the fundraising success.
My first exposure to the BSO was going to Tiny Tots concerts as a child. I have attended the New England Conservatory of Music, sung under Seiji Ozawa and Gunther Schuller, and with the Baltimore Symphony Chorus under Ed Polochick. I have studied piano privately since I was eight, and I continue to take lessons with Arno Drucker. I consider it "my weekly hour of abject humility." I understand what a difficult task musicians set for ourselves, as well as the difficulty of the musical challenge.
Music has always been an avocation for me, and the position of board chair marries music, volunteer leadership, interacting with musicians, and raising money.
In earlier years, city fathers and business leaders serving on symphony boards would come to meetings, write checks, and go home. Now, we need board members who can financially support us, but who also have innate passion for the music. We have to move outside our comfortable box, and have our city's complexity reflected on our board, onstage, and in the audience. The BSO will be a hodgepodge of our talented community. What can we offer children, churches, other groups? We need musicians to be BSO ambassadors. As the largest cultural institution, board members must be able to address this. Since our last CEO departed, we have had to rely more on the board.
What do you look forward to in your next term?
I am thrilled to have the opportunity to serve two more years.
I have many priorities, chief among them being the endowment, which is absolutely critical to our future. Many orchestras have realized that building a bigger endowment is a path to success.
Additionally, I would like to see how musicians can be even more interactive with our audiences. Musicians should have connections outside of our immediate community. They have so much to offer our city and state.
Third, I look forward to working with the "Re-imagining the BSO experience Task Force" to try to deliver more for our audiences. We want to act on some ideas such as making the lobby more inviting for gathering and conversing. How could the lobby be more conducive to sharing food and drinks? Should we allow patrons to bring drinks to their seats?
On a more general note, excellence should pervade the organization, not only in the music-making, but also in audience development and community engagement.
Finally, the BSO must remain financially viable and sustainable. I will work to ensure that every aspect of the organization moves in unison.
It's well known among musicians that you are a passionate music lover. What have some of your favorite concerts been over the past few years? Which of our upcoming concerts this season do you most look forward to?
As a piano student, I always love the piano soloists who come to perform with the BSO. When one of the other students in my piano studio is studying a concerto that is being performed by the BSO that week, I try to invite the entire studio to the dress rehearsal of that concerto.
I especially enjoyed the BSO's performance of Appalachian Spring in June 2016 with Baltimore School for the Arts dancers. In addition, I always love hearing concerts in which BSO musicians are featured as soloists. Dvorak is one of my favorites, and this fall I have discovered that I have a growing and startling love of Richard Strauss! I have always loved the music of Wagner, and I have attended performances of his Ring Cycle two or three times.
What opportunities and challenges do you see for the BSO at the start of our second century?
Orchestras and arts institutions of our stature think in terms of centuries. We must plan for more than two to three years at a time. It is daunting and thrilling to contemplate the BSO's second century. However, our priority must always be the music.