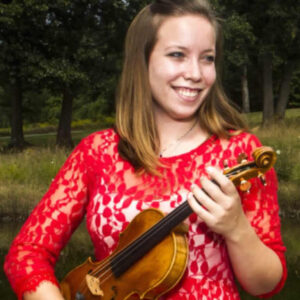 Holly Jenkins
First Violin
Originally from House Springs, Missouri, Holly Jenkins  joined the violin section of the Baltimore Symphony Orchestra in September, 2016. Ms. Jenkins has performed as both a soloist and a chamber musician in recitals in seven different countries, and in such venues as Carnegie Hall in New York City, the Kennedy Center in Washington, D.C, Cleveland's Trinity Lutheran Church, and at St. Louis' Sheldon Concert Hall. She began her performing career at the age of 11, when she was selected to solo with the Alton Symphony Orchestra. Subsequent concerto performances have included appearances with the Oberlin Conservatory Orchestra, St. Louis Chamber Orchestra, Richardson Symphony Orchestra, Sarasota Music Festival Orchestra, Eastern Music Festival Orchestra, St. Louis Symphony Youth Orchestra, Principia College Orchestra, Belleville Philharmonic, and the Clayton Symphony. Ms. Jenkins was also a member of the New York City based conductorless string ensemble, Shattered Glass, from 2013-2016, touring the Midwest and East Coast and performing regularly across New York City.
In addition to performing, Ms. Jenkins is passionately committed to promoting peace, dialogue, and cross cultural awareness through music. During the summer of 2011, she and a colleague conducted a tour of Jordan and the West Bank in cooperation with Musicians Without Borders, Nablus a Culture, and several other organizations, teaching and performing in schools and community centers. In 2012 she participated in a two-week trip to Pakistan with Cultures in Harmony to perform and conduct music workshops.
Ms. Jenkins holds degrees from the Oberlin Conservatory of Music and Manhattan School of Music. Most recently she has attended Bard College to play with The Orchestra Now. Her teachers have included Milan Vitek, Laurie Smukler, Amy Oshiro-Morales, and Winifred Crock.