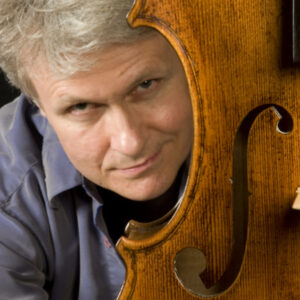 Jeff Stewart
Viola
I've been Jeff Stewart, violist of the BSO, for almost forty years (this seems like a long time but only occasionally feels that way). I am mildly surprised that playing my instrument and making music has become increasingly important to me as I get older; I'm lucky to be a part of the glorious wash of sound we make onstage at the Meyerhoff and Strathmore. My colleagues continue to delight me with their wonderful playing, and the decades of friendships in the BSO have made it much more than a musical home.
My civilian life revolves around my family of people and dogs. Elisabeth, my lovely wife, will soon finish nursing school, while daughters Eve and Anna thrive and boogey down at Skidmore College and Park School. Gracie, our 85 years-old-in-human-years yellow lab, is Queen of the household, while young rescue Liesl gets away with as much as she can. I enjoy reading and running (although not at the same time, and these days it's more walking than running due to injury), trying to eat less carbs in the winter (hence the aforementioned walking), and, like all good Baltimoreans, cheering on or groaning about the Orioles and Ravens. Crabs are good, too.
My hope for the BSO's future is that it will be able to continue to give beauty and inspiration to a searching world. Simply put, we hope to share our music with everyone. Music can Help.