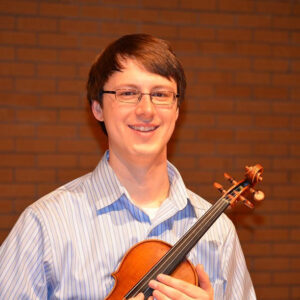 Kevin Smith
First Violin
Violinist Kevin Smith joined the BSO in September, 2015.
What will the Baltimore Symphony leave behind in its next 100 years?
A legacy of connecting the great music of composers past and present to our community young and old is what I envision. The key is to make this music accessible and presenting it in a way that connects to our daily lives.
Who or what inspires you?
The audience - watching people's faces light up when the music excites them is the most rewarding part of being a musician. The energy that audiences bring to live performances feeds the orchestra's desire to play our best.
What piece of music do you wish you had written?
I wish I had written Beethoven's Violin Concerto. It has always been one of my favorite pieces and I think it's one of his most perfect compositions.
What or who influenced you to be a professional musician?
My first classical CD was a recording of the Cleveland Quartet playing Beethoven String Quartets. I would listen to this CD on repeat for hours and I still enjoy that recording to this day. It definitely made me want to play violin for the rest of my life.
What do you like to do with your "me time"?
I enjoy reading, playing golf, hiking, and learning about history.