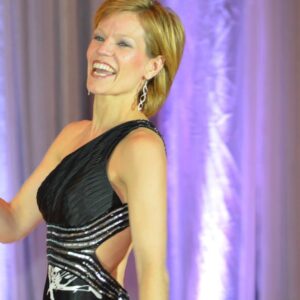 Lura Johnson
Guest Keyboard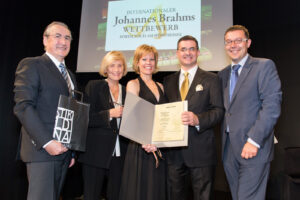 Duo Baltinati Ilya Finkelshteyn, cello & Lura Johnson, piano 2nd Prizewinners, 2015 International Johannes Brahms Competition
Lura Johnson is the BSO's guest pianist. She often plays harpsichord, organ, synthesizer, and celesta as well.
Who or what inspires you?
I am inspired by the pursuit, creation, connection with and appreciation of beauty of all kinds. For me, beauty doesn't just mean pretty things. Beauty can be sincerity. Beauty can be passion. Beauty can be terrifying, especially in music sometimes. Immanuel Kant defines beauty as the interplay that happens between us and an object of beauty - in other words, beauty is what it does to us. Music is an incredible world of beauty that I am fortunate to grasp - I happily accept my calling to spread this beauty - understanding of it and access to it - to all I meet.
If you had to do something other than be a Baltimore Symphony Musician, what would you do for a living?
In my next life, I'd LOVE to be a Broadway dancer. :)
Where is your favorite get-away spot or favorite get-away companion and why?
Since my performance schedule generally doesn't allow me to take LONG vacations, my favorite kind are short road trips to Bed and Breakfast locations around the area. I'm a huge fan of getting away for a couple of days to Deep Creek Lake. I also love exploring the many beautiful places in southern Virginia, in the Shenandoah. I love leaf peeping and blossom gazing. These are my best ways to unwind.
Where would people be surprised to find you? or What would people be surprised to find out that you like to do?
I'm a social and competitive west coast swing dancer. Many Friday and Saturday nights, after concerts, I grab my dance shoes and head for the ballroom. I compete nationally in the Pro Am Routine division (my routine dancing with my amazing champion teacher, Gregory Scott) and the Rising Star division (my routine with my fellow amateur dancer and great friend, Corey Flowers.) In 2015, Greg and I took 2nd Place at the US Open Swing Dance Championships! It was the biggest thrill of my life that didn't involve a piano.
What piece of music do you feel like was written for you? 
Brahms, Op. 118, No. 2. This piece has become my anthem.
What or who influenced you to be a professional musician?
I come from a musical family. The question in our household was not, "Are you going to learn an instrument?" but "What instrument are you going to learn?" My mother and brother are both violinists and my father and I are both pianists. He was my first teacher. I'm the only one crazy enough to be out there doing it professionally, but they are all really talented, accomplished, and musical.
What do you like to do with your "me time"?
I love dining al fresco in the sunshine! My back deck is a great place to do that. I really enjoy trying out new recipes, doing things to make more beautiful my 1828 colonial, spending time with my fabulous friends, and being a 5 star hostess on Airbnb.
How do you give back to our community?
After the riots of April 2015 quieted down, I had a conversation with former BSO principal cellist Ilya Finkelshteyn. During that conversation, I articulated the belief that the only real way to make changes to our society, here in Baltimore, is one child at a time. When I hung up the phone, I went online and signed up for Big Brothers Big Sisters of the Greater Chesapeake, to become a mentor to a child in inner city Baltimore. BBBS was inundated with mentor requests at that time, and it has taken a long time for them to weed through all the applications. I've been through countless hoops online, had my references checked, and underwent a 2.5 hour in person interview. Now I'm just waiting to be matched with my Little! Really looking forward to meeting her and hopefully providing her with some perspective on life that she doesn't receive in her every day life. I hope one day to be bringing her to BSO rehearsals and concerts!
Pianist Lura Johnson is a Steinway Artist and the Second Prizewinner, as a member of Duo Baltinati with cellist Ilya Finkelshteyn, of the 2015 International Johannes Brahms Competition Chamber Music Division. Hailed as "brilliant" by the Washington Post, she is celebrated for her passionate and insightful interpretations of the standard repertoire and esteemed by colleagues for her uncommon sensitivity and skill as a collaborative partner. Equally comfortable as a soloist, chamber musician, and orchestral musician, she is the Principal Pianist of the Delaware Symphony and has performed extensively as the pianist of choice for the Baltimore Symphony Orchestra since 2007. Trained by luminaries Robert McDonald and Leon Fleisher, Ms. Johnson has collaborated extensively in orchestral performances and recordings with Yo Yo Ma, Itzhak Perlman, Midori, Leila Josefowicz, Joshua Bell, and Jean-Yves Thibaudet, the St. Lawrence String Quartet and has performed as soloist with the Baltimore and Delaware Symphonies.
Ms. Johnson's discography includes a 2001 album, The Jennings-Johnson Duo, with flutist Christina Jennings, and 2010 Centaur Records release of Inner Voice, with BSO violist Peter Minkler, featuring sonatas by Rochberg and Shostakovich. This recording of Arvo Pärt's spiegel im spiegel was featured in the official teaser trailer for the 2013 Warner Brothers film Gravity, directed by Alfonso Cuarón and starring George Clooney and Sandra Bullock. Ms. Johnson can also be heard on several recordings released by the Baltimore Symphony Orchestra, including Naxos' Grammy nominated release of the Bernstein Mass, on which she played principal keyboard. Ms. Johnson's first solo CD, Turning, was released in summer of 2014. Ms. Johnson has recorded for the Foxridge, Naxos, Innova, Centaur, Albany, and Azica labels.
Devoted to chamber music from an early age, her many recital partners include Baltimore Symphony concertmaster Jonathan Carney, with whom she has presented the complete Brahms violin sonata cycle, clarinetist Anthony McGill, cellists Ilya Finkelshteyn, Amit Peled and Kenneth Slowik, and flutist Marina Piccinini. She is a founding member of three duos, the Jennings-Johnson Duo with flutist Christina Jennings, Times Two with violinist Netanel Draiblate, and Duo Lalu, a cabaret duo with soprano Lara Bruckmann. She performs with VERGE Ensemble, 21st Century Consort, PostClassical Ensemble, and the Towson New Music Ensemble.
Ms. Johnson has taught piano at the Peabody Conservatory since 2002 and from 2013-2015 was Director of Chamber Music at Georgetown University in Washington. She has taught on the faculty of the Sequoia Chamber Music Workshop and the Apple Hill Center for Chamber Music.
Formerly the Artistic Director of Baltimore chamber music series Music in the Great Hall, Lura has also worked as Pianist and General Manager with the PostClassical Ensemble in Washington, DC, an innovative and wildly ambitious chamber orchestra that is reinventing and reinvigorating the presentation of classical music with programming that is thematic and cross-discliplinary.
When not onstage, Lura can be found on the dance floor. She is an avid social and competitive dancer with roots in gymnastics, ballet, and ballroom, specializing now in West Coast Swing.