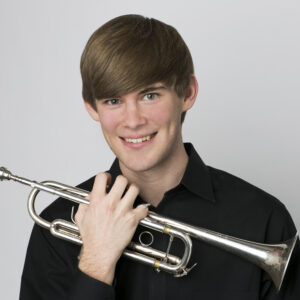 Matthew Barker
Trumpet
Matthew Barker recently joined the Baltimore Symphony Orchestra as the 4th/Utility Trumpet beginning in the 2016-2017 season. A native of Houston, he earned a Bachelor of Music from Northwestern University in 2013 where he studied under the tutelage of Barbara Butler, Charles Geyer, and Robert Sullivan. He also served two years in the Civic Orchestra of Chicago, a premier training program for emerging professional musicians, continuing his studies with Christopher Martin. Matthew returned to Houston and his former teachers Butler and Geyer in pursuing his Masters at Rice University's esteemed Shepherd School of Music in 2015, where he frequently subbed with the Houston Symphony Orchestra.
Matthew served four of his collegiate summers at Camp-of-the Woods, a Christian family resort in the Adirondack Mountains, as a member of the music staff, where he was frequently featured as a soloist. He also participated in the Music Academy of the West Academy Festival Orchestra in 2015. Matthew is an accomplished arranger with a few of his numerous arrangements being featured at the Fischoff National Chamber Competition and the National Trumpet Competition as well as in professional settings by Yo-Yo Ma and the Civic Orchestra of Chicago Brass Ensemble.
In his spare time, Matthew enjoys exercising, cooking, gaming, and spending time with his wife, Alicia.