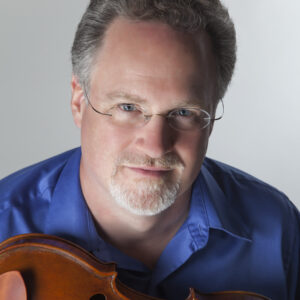 Peter Minkler
Viola
Peter Minkler is heralded by Tim Smith of the Baltimore Sun as an inspiring artist who "makes the viola sing…." Having firmly secured his reputation as a musician of rare communicative warmth and possessing eloquent depth of expression, he was awarded Baltimore's prestigious Mary Sawyers Baker Prize, and is a two-time recipient of a Maryland State Arts Council Individual Artist Award in Classical Music Solo Performance.
Mr. Minkler began his undergraduate studies with Robert Vernon at the Cleveland Institute of Music and earned his Bachelor of Music degree from the Eastman School of Music, where he was a student of Francis Tursi. He also participated in master classes at the Banff Centre in Alberta, Canada with Lillian Fuchs, Donald McInnes and William Primrose.
A  member of the Baltimore Symphony Orchestra since 1984, he also holds the position of Principal Viola with the Baltimore Choral Arts Society Orchestra. Prior to his arrival in Baltimore, he served as Associate Principal Viola with the Buffalo Philharmonic Orchestra.
He has appeared as soloist with the Baltimore Symphony Orchestra on multiple occasions, as well as with the Fort Wayne Philharmonic, Prince George's Philharmonic, the Orchestra of St. Johns, Ars Nova Chamber Orchestra, The Columbia Orchestra, Baltimore Choral Arts Society and the Buffalo Philharmonic Orchestra. In addition, he was the featured artist at the Finger Lakes Bach Festival in Ithaca, NY. As soloist, he has worked with such distinguished conductors as Andrew Constantine, Tom Hall, Marvin Hamlisch, Raymond Harvey and Daniel Hege.
An avid and versatile musician, Mr. Minkler is also highly sought both as recitalist and chamber musician. He has performed extensively throughout the Baltimore region and is a regular guest artist on numerous established local series including: Free-Fall Baker Awardee Concerts, Catonsville Concerts at 3, Sundays at 3 Chamber Music Series and Chamber Music by Candlelight, a series he co-founded at the Second Presbyterian Church. Other appearances include an exhibition and recital at the Baltimore Museum of Art, the University of Maryland, Chamber Music UB: The BSO Musicians Series, a series he developed and coordinated in conjunction with the University of Baltimore and musicians of the Baltimore Symphony Orchestra, and the BSO Summer MusicFest. Nationally, he has been a featured artist at the University of Pennsylvania in Philadelphia with composer Jeremy Gill for the George Rochberg Memorial concert, Dickinson College, PA, the 2012 40th International Viola Congress held in Rochester, NY and presented recitals at both Northwestern State University in Natchitoches, LA and the Channing Concert Series in Houston, TX. At the behest of Mrs. George Rochberg, he has also presented recitals at Dunwoody Retirement Village in Newtown Square, PA. Throughout the years, Mr. Minkler has collaborated with many luminaries including violinists Pinchas Zukerman, Stephan Jackiw and Victor Costanzi, cellist Ralph Kirschbaum, flutist Toshiko Kohno, harpists Rita Costanzi and Elizabeth Hainen, percussionist David DePeters and pianists Jonathan Biss, Lura Johnson and Max Levinson. More recently, he has begun exploring new and innovative ways to express himself and has worked in partnership with Shodekeh, a human beat boxer, award winning jazz saxophonist, Carl Grubbs, and modern dancer, Naoko Meshiba.
In addition to his private teaching studio, Mr. Minkler, a devoted pedagogue, has presented a viola composition seminar at the Peabody Conservatory of Music; coached adult chamber music participants of the BSO Summer Academy, coached the viola section of the former Greater Baltimore Youth Orchestra and has presented numerous master classes for students of all ages and abilities in a variety of formats, cities and settings, including the Hoff Barthelson Music School in Scarsdale, NY, East Aurora High School, East Aurora, NY, and the aforementioned Dickinson College and Northwestern State University.
Mr. Minkler has released two solo CDs on the Centaur Records label, both garnering exceptional reviews. The first, Viola Seul: Works for unaccompanied viola, is a compilation of seven works that showcase the extraordinary qualities of the oft-maligned viola and was praised by allmusic: "Minkler's playing is…thoroughly musical, insightful, witty, and highly nuanced…this album is likely to please anyone interested in solo string works or just solid, unpretentious, musical artistry."
Inner Voice, his second project recorded in collaboration with pianist, Lura Johnson, features four major works of the twentieth century composed by Britten, Rochberg, Pärt and Shostakovich. This CD has also received high praise from critics: Carlos María Solare of The Strad writes, "Britten's Lachrymae…is given an unusually well-structured performance that goes beyond superficial tonal beauties to reveal the score's constitutive elements. While listening I felt that this is how William Primrose – the piece's dedicatee – might have played it…." It was this recording of Arvo Pärt's spiegel im spiegel that was used in multiple trailers for the Academy Award winning movie, Gravity, starring Sandra Bullock and George Clooney. This as well as other critical acclaim continues to affirm his artistry and command of the instrument.
He has actively served on both the BSO Players' Committee and the Artistic Advisory Committee for the musicians of the Baltimore Symphony Orchestra. In 2012 he was nominated for, and served on, the Maryland State Arts Council Review Panel (MSAC). As one of nine discipline-based panelists, he played a significant role in the grants process through his expert recommendations to MSAC.
Mr. Minkler commissioned Dark Bells, a major new work for viola, chorus and orchestra by world renowned composer, Jonathan Leshnoff. Based upon the poetry of Edgar Allan Poe, this oratorio received its world premiere in May 2014 with Music Director Andrew Constantine and the Fort Wayne Philharmonic. In addition, he presented the world premiere of Whistling in the Dark for unaccompanied viola by composer, Jeremy Gill, on the Strathmore Mansion Series in Bethesda, MD. 2015 included the US premiere of Sonata for Viola and Piano by Israeli composer, Boris Pigovat, and the world premiere of Jonathan Leshnoff's Piano Quintet, Radiance, in Memory Of Christina Tarsell. He is actively seeking other contemporary composers with whom he can work so that together, they can create exciting new music that showcases the viola.
As John Peter Thompson of the Prince Georgian writes, "If you get a chance to hear Mr. Minkler perform, you need to grab it."
Exciting highlights of the 2015-16 season include the recording of new works by Jonathan Leshnoff for the Naxos label, a performance of the string trio version of J.S. Bach's Goldberg Variations on the Sundays at 3 series, as well as two performances of Leshnoff's Dark Bells. Taking place in October, these concerts will premiere in Reading, PA and here in Baltimore with Music Director Andrew Constantine conducting the Reading Symphony Orchestra in collaboration with the Baltimore Choral Arts Society. These concerts will also feature Mr. Minkler as soloist in Vaughn Williams' Flos Campi.