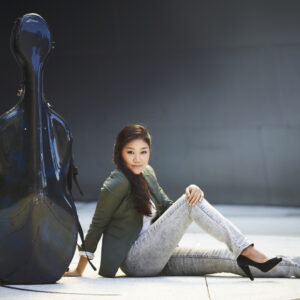 Se-Doo Park
Cello
Winner of the inaugural Zara Nelsova Memorial Award, cellist Se-Doo Park's performances have taken her around the world. In September 2018, she was named a winner at the Musical Instrument Bank Competition by the Canada Council for the Arts, making it her third consecutive win at this triennial competition. She was a top prize winner at The Montreal Symphony Orchestra Standard Life Competition, Korean TV-Radio Competition, The Royal Conservatory of Music Academy Symphony Orchestra Competition, among others.
Se-Doo performs regularly in North America and Europe as a soloist and a chamber musician, premiering chamber and solo works that have been composed for her. She successfully gave solo recitals across Canada upon winning Zara Nelsova Memorial Award, and was featured as a soloist on the closing concert of Canadian-Korean Symphony Orchestra. She has performed with ARC Ensemble (Artists of Royal Conservatory) of Canada as a guest cellist since 2013-14 season, and with the group toured both western Canada and Europe, and has been aired on CBC Radio. A versatile musician in demand, she has collaborated with top artists in different genres, ranging from the world-renowned musicologist and pianist, Robert Levin, to the pop singer Nathan Pacheco on his PBS Specials.
Se-Doo has appeared at numerous music festivals as well, including the Verbier Festival Academy, where she attended on a grant from Canada Arts Council and was awarded Prix Nicolas Firmenich de Violoncelle as "the cellist of the year" in 2012. Other festivals include Cabrillo Contemporary Music Festival, Ravinia Festival, Sarasota Music Festival, Aspen Music Festival, Banff Music Festival, Meadowmount School of Music, Centre d'arts Orford, and Le Domaine Forget.
Se-Doo's strong passion for teaching led her to give masterclasses at University of Manitoba and Manitoba Cello Society in Canada. She coached at The Juilliard Pre-College Orchestra, The Adult Studies Chamber Music Workshop at The Colburn School, and The Academy of Baltimore Symphony Orchestra. She is serving as a mentor at local schools in Maryland.
Born in Monterey, California, Se-Doo grew up in both Korea and Canada. She first began her musical lessons on piano at age 7, making her orchestral debut as a solo cellist at 15 in Korea. She obtained her Artist Diploma from The Colburn School in Los Angeles under the tutelage of Ronald Leonard, after receiving a Bachelor and a Master's degree on full scholarship, including the prestigious Rena Robbins Shapiro Memorial Scholarship in Cello, from The Juilliard School in New York City. Her mentors include Timothy Eddy, Bryan Epperson, Rafael Figueroa, Menahem Pressler, Sharon Robinson, and Tsuyoshi Tsutsumi. Prior to joining Baltimore Symphony Orchestra, she was a member of Indianapolis Symphony Orchestra. She is the co-founder and artistic director of Chamber Orchestra Canada.
Se-Doo plays on the beautiful 1730 Newland Joannes Franciscus Celoniatus cello of Turin, Italy, on generous loan from the Canada Council for the Arts.