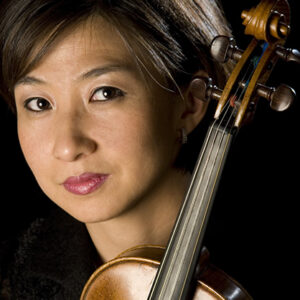 Wonju Kim
Violin
A member of the Baltimore Symphony since 1990, Wonju Kim is a native of Seoul Korea.  Ms. Kim began studying the violin when she was five years old and made her solo debut with the Women's Symphony of Seoul at the age of ten. As a child she performed with her sisters in the Kim Trio, playing concerts in Asia, Africa and the United States, where the group appeared on "Good Morning America." In addition, she performed the Mendelssohn Violin Concerto with the Korean Broadcast Symphony at age 16.
Ms. Kim moved to the United States in 1980 to attend the Juilliard School of Music. She also studied at the Amsterdam Conservatory of Music in the Netherlands for several years. Her principal teachers have included Herman Krebbers, former Concertmaster of the Concertgebouw Orchestra and Rafael Druian, former Concertmaster of the Cleveland Orchestra.  She moved to Baltimore in 1986 to attend the Peabody Conservatory, where she studied with Berl Senofsky and has remained in the area since graduating in 1989.
In addition to playing with the BSO, Ms. Kim has an active performance schedule. She has played with several chamber music groups, including Semaphore, a New York City-based new music ensemble. She is a founding member of Music in Common, a Columbia-based concert series devoted to building new audiences for chamber music that was created by her late husband, Daniel Malkin.