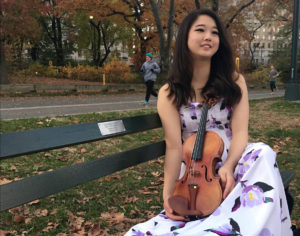 I was more than honored to join the Baltimore Symphony Orchestra starting in May 2019. I recently graduated from Shepherd School of Music at Rice University with a Masters of Music and earned my Bachelors from The Juilliard School. My teachers have included Kathleen Winkler, Li Lin, Donald Weilerstein, and Peter Rovit.
It has been my dream to be an orchestral musician since my junior year of high school, when my youth orchestra performed Elgar's "Nimrod" from the Enigma Variations in honor of our graduating seniors. The piece itself is a work of magic, but I truly felt then the power of an orchestra when we all come together to share and express the same story, despite all of us coming from different backgrounds and cultures. The product we create can move us all with depth and warmth.
So far, my experience in the BSO has been absolutely wonderful. Despite the difficulties we faced as an orchestra this summer, most of the members did not forget me and welcomed me so warmly into the family. I cannot thank enough those who have shown me even the smallest act of kindness and love, which kept me going despite these hardships. Every rehearsal ends with satisfaction, fatigue, and sometimes both, but I always come back to the next rehearsal with refreshed eagerness to make beautiful music with my talented colleagues.